From Hot Mess to Happily Ever After…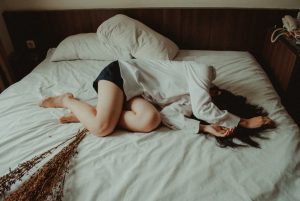 I want to share with you my story about how I went from hot mess to happily ever after… I was a 40-year-old single woman and I'd just had yet another painful break-up. I was seriously a hot mess in my love life! I desperately wanted to find Mr. Right, get married, and start a family before it was too late. For many years, I had picked the wrong guy which meant I kept having these short, failed, painful relationships that only lasted about 4 months, before the inevitable break up!
I was losing hope in finding Mr. Right, and my window to have children was closing fast. That made me feel completely depressed, alone, and frankly like I was an utter failure in relationships. At this point, I had experienced over a decade of short and painful relationship failures! Then, I met an amazing guy who also wanted marriage and a family and I knew this was my last chance to have children. …But, within a few months, I knew he wasn't "the one". I was exhausted from adrenal fatigue and I knew at that moment I would never have children. I felt like it was impossible to find a loving lifetime relationship, much less the marriage I had been longing for. I felt like giving up entirely….
But Then, as if by chance, something amazing happened… I attended a workshop that helps women to actually understand men. No, like really really understand them! I met my mentor that day, and everything changed……………. I was able to truly understand the core differences between men and women and the misunderstandings that happen as a result. I saw exactly how I was either picking the wrong guy or sabotaging every relationship again and again. I suddenly had renewed hope in finding Mr. Right…
So I decided to learn all I could from my mentor about relationships, so I could truly find my happily ever after. But there was still a problem… I was completely exhausted all the time. I still had to deal with my adrenal fatigue which had, by this time, taken away my ability to have children, and was keeping me from being my best self out in the dating world. Ultimately I worked with a doctor and a naturopath for two years to recover from that. This allowed me to continue studying with my mentor and to apply my new knowledge about men, out on first dates. Which meant I could now enjoy online dating in a whole new way while meeting lots of amazing men.
In the end, I was able to meet Mr. Right and we got married 2 1/2 years later. We have the most incredible relationship that either of us has ever experienced, filled with love, respect, appreciation, and adventure. On a scale of 1 to 10, this relationship is honestly a 20! And…I now have two amazing step kids!
As a result of transforming my love life, I became certified and licensed to teach and coach on the very material that turned it all around for me. Now not only have I achieved relationship success, but I am also able to help others avoid decades of pain and misunderstandings in dating, marriage, family, and even at work! I am living a life of passion and purpose, enjoying my happily ever after with my Mr. right!
To your happiness,
Barbara Cole Salmeron
Relationship Illumination Expert
Transforming lives and relationships…
BarbaraColeSalmeron.com - Sign up for free videos!
Grow.BarbaraSalmeron.com - My Online Masterclasses!